St Peter's Cathedral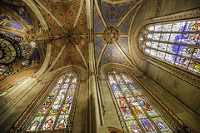 St Peter's © Valerii Tkachenko
With initial construction commencing in 1160 and lasting nearly a century, St Peter's Cathedral has over the years become a hotchpotch of architectural styles with Romanesque, Gothic and Neoclassical features. A former Catholic cathedral, St Peter's became a Protestant church in 1536 at the advent of the Reformation and was cleared of its ornate fittings such as altars, statues, paintings and furniture, but the stained-glass windows remained. Prominent theologian John Calvin preached at St Peter's Church between 1536 and his death in 1564 and the church soon became the centre of Protestantism. Recently, the remains of a fourth-century church were discovered under the existing building, providing an insightful look into early Christianity. Some of it is open to the public and can be viewed through the small museum on the site. For a breathtaking panoramic view of Geneva and Lac Leman, visitors can climb the 157 steps that lead to the summit of the cathedral's north tower.
Address: 24 Place du Bourg-de-Four
Website: www.saintpierre-geneve.ch
Opening times: Monday to Saturday 10am-5:30pm; Sunday 12am-5:30pm (October to May) and Monday to Saturday 9am-6:30pm; Sunday 12am-6:30pm (June to April)
Admission: Towers: CHF 5 for adults, CHF 2 for children and archeological site: CHF 8.