Palais des Nations (United Nations)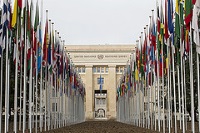 United Nations © United Nations Photo
Built between 1929 and 1937 to host the League of Nations, the Palais des Nations now houses the United Nations Office at Geneva, which was inaugurated in 1966 after the dissolution of the League of Nations. The biggest United Nations station outside of the headquarters in New York, the office at Geneva provides critical support to the organization. Situated in 45-hectare Ariana Park, the extensive Palais des Nations is bordered by century old trees, and it is not uncommon to see peacocks darting around; the result of a request by the former owner of the land who bequeathed it to the City of Geneva on condition that peacocks may run freely on its grounds. Tours include the council room with frescoes by José Maria Sert and the Assembly Hall. Identity documents are required.
Address: Pregny Gate, 14 avenue de la Paix
Website: www.unog.ch
Telephone: +41 22 917 12 34
Transport: By bus (lines 8, 28, F, V and Z stop at "Appia"; lines 5 and 11 stop at "Nations") and by tram (Tramway 15 Terminus "Nations").
Opening times: Monday to Friday (September to March); Monday to Saturday (April to August). Guided tours take place at 10:30am, 12pm, 2:30pm and 4pm, subject to availability.
Admission: CHF 15, concessions available.