St Stephen's Cathedral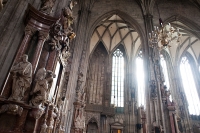 St. Stephen's Cathedral interior © Mstyslav Chernov
The cathedral is one of the greatest Gothic structures in Europe, with its massive south tower standing at 445 feet (136m) tall. A dominant feature on the Vienna skyline, its 343 steps can be climbed for fantastic views. It has been in a state of continual preservation and repair since its original construction in the 12th century due to fire, sieges and bombardment. The cathedral is built of limestone and has an ornately patterned and richly coloured roof covered by glazed tiles. The interior is rich in wood carvings, sculptures and paintings and has numerous chapels, altars and catacombs. Wolfgang Amadeus Mozart was married here, had children baptised here, and his funeral was held in the Chapel of the Cross.
Address: Stephansplatz
Website: www.stephanskirche.at
Telephone: +43 151 552 3054
Transport: U-Bahn to Stephansplatz
Opening times: Daily 6am to 10pm (from 7am on Sundays). Various guided tours take place daily.
Admission: Free admission to the cathedral. All-inclusive Cathedral Tour: €19.90 (adults). Other packages and concessions available.