Gardiner Museum of Ceramics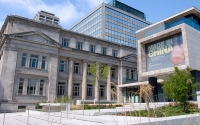 Gardiner Museum of Ceramics © End User
Housed in an award-winning piece of architecture, the Gardiner Museum of Ceramics showcases a craft that has existed for centuries. With earthenware of all different shapes and sizes from the ancient Americas, China, Japan, the Italian Renaissance and more, a tour through the museum will shape visitors' understanding of the ceramic process and its place in world history. The museum hosts classes for both kids and adults, and the accompanying Clay restaurant provides the finest of seasonal produce to complete a busy day browsing the museum.
Address: 111 Queen's Park
Website: www.gardinermuseum.on.ca
Telephone: +1 416 586 8080
Opening times: Monday to Thursday from 10am to 6pm; Friday from 10am to 9pm; Saturday and Sunday from 10am to 5pm
Admission: C$15 (adults); free for children under 18 years. Other concessions available.