The Albertina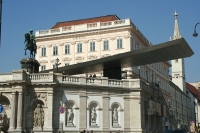 The Albertina museum in Vienna © Thomas Steiner
The former Hofburg residence today houses one of the largest and greatest graphic art collections in the world with drawings, old master prints and modern works. The museum explores the development of graphic arts since the 14th century and there are more than 60,000 works on show. Artists featured include Leonardo da Vinci, Michaelangelo, Manet, Picasso and Cezanne. The Albertina is also one of the most beautiful examples of classical architecture in the world. There is a pleasant cafe for refreshments while the museum is beautifully conceived, with each room decorated to complement the art on display.
Address: Albertinaplatz 1
Website: www.albertina.at
Telephone: +43 1 534 830
Opening times: Daily 10am to 6pm (until 9pm on Wednesdays).
Admission: €12.90 (adults), concessions available. Children under 19 free.