Museum of Fine Arts (Kunsthistorisches Museum)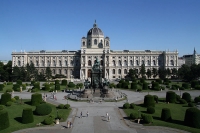 Museum of Fine Arts (Kunsthistorisches Museum) © Manfred Werner
The Fine Arts Museum across from the Hofburg Palace houses many of the art collections gathered by the Habsburgs and is one of the foremost museums of fine and decorative arts in the world. The magnificent building is crowned with a 197 foot (60m) high dome, while the inside is sumptuously decorated with marble, gold leaf and stucco ornaments, a fitting home to the formidable artistic treasures collected over the centuries. The collections range from Ancient Egyptian, Greek and Roman relics to medieval, Renaissance and Baroque paintings. The museum faces the Natural History Museum across the Maria-Theresian Platz, which has an identical exterior.
Address: Maria-Theresian Platz
Website: www.khm.at
Telephone: +43 1 525 240
Opening times: Tuesday to Sunday 10am to 6pm (until 9pm on Thursdays). Closed on Mondays September to May.
Admission: €16 (adults), children under 19 free. Concessions available.