Hockey Hall of Fame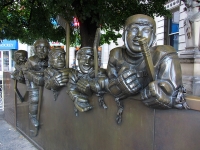 Hockey Hall of Fame © Richie Diesterheft
Avid ice hockey fans should make a point of it to visit Toronto's Hockey Hall of Fame. Within this shrine to Canada's favourite pastime, visitors can learn about the history of the game through memorabilia from every era, hockey artefacts from around the world, themed exhibits, multimedia stations and images of great moments in hockey history. Iconic players' gear, skates and sticks are also on display. Visitors usually relish having hands-on access to the Stanley Cup, and trying out state-of-the-art games that challenge shooting and goalkeeping skills.
Address: 30 Yonge Street, Brookfield Place
Website: www.hhof.com
Telephone: +1 416 360 7765
Opening times: Monday to Friday, 10am-5pm. Saturday, 9.30am-6pm. Sunday, 10.30am-5pm.
Admission: C$18 (adults), C$12 (youths aged 4 - 13), free for children under 3. Other concessions are available.