Beihai Park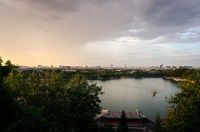 Beihai Park © Luca Casartelli
A place of tranquillity and grand imperial beauty, the Beihai Park is one of the great attractions of Beijing. It's centrally located and close to the Forbidden City and Jingshan Park, providing a peaceful, natural haven after a long morning of sightseeing. One of the oldest and best preserved imperial gardens in China, Beihai Park's history extends over 1,000 years to the ancient Liao dynasty which ruled between 916 and 1125. Built up through five dynasties, the park is an emblem of old-world China, designed according to the ancient Chinese art of landscaped gardens with artificial hills, colourful pavilions and intricate temples.
Kublai Khan lived in what is now the Circular City of Beihai Park. The Tibetan-style White Dagoba, built in 1651 on Jade Island, is a landmark for both Beihai Park and Beijing, having been constructed on the suggestion of a famous Tibetan Lama priest, NaomuHan. Apart from the famous White Dagoba and the Circular City, landmarks within Beihai Park include Hao Pu Creek Garden, the Quiet Heart Studio, Nine-Dragon Screen and the Five-Dragon Pavilions. The Fangshan Restaurant, started nearly a century ago by royal chefs, is also worth a visit.
Address: Wenjin Jie 1, Xicheng Qu
Website: www.beihaipark.com.cn/en
Telephone: (0)10 6403 3225
Transport: Underground rail to Tiananmen Xi, then bus number 5.
Opening times: Open daily 6.30am-9pm (April to October); 6.30am-8pm (November to March).
Admission: CNY 10 (April to October), and CNY 5 (November to March).