798 Space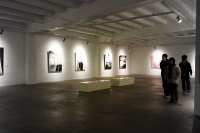 798 Space © Charlie Fong
Beijing's prominent art district is home to 798 Space, an art gallery housed in a former electronics factory that built components for China's first atomic bomb and early satellites. Exhibiting the latest in contemporary Chinese art in its lofty viewing rooms, 798 Space is a visual delight for any traveller. Besides regular national and international exhibitions, 798 Space also hosts corporate and commercial events such as fashion shows, product launches, conferences and fairs. Also housed in the gallery there is a film and video viewing area and a gallery bookshop, as well as a colourful little restaurant. The art precinct itself is dotted with avant-garde statues, charming coffee shops and noodle bars, and a plethora of other wonderful art galleries to visit.
Address: 2 Jiuxianqiao Road, Dashanzi Art District, Chaoyang District
E-mail: art@798district.com
Website: www.798district.com
Telephone: +86 10 5978 9798
Opening times: Open daily from about 10.30am until about 7.30pm.
Admission: Free