Shwedagon Pagoda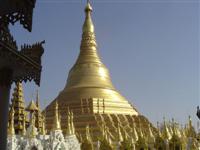 Shwedagon Pagoda © Dwstein
Shwedagon Pagoda is Myanmar's most famous sight, an iconic landmark that stands as a highlight for any visitor to the region. The stupa is covered in gold plates weighing an estimated 52 metric tons and topped with a 76-carat diamond, as well as being covered by many other jewels. The temple was built between the 6th and 10th centuries, although the site atop Singuttara Hill has been considered holy for over 2,500 years.
Also known as the Golden Temple, Shwedagon is the most sacred site for Burmese Buddhists, and is a daily focus for worship. Relics of the Buddha are said to be housed in the stupa, along with many other historical artefacts and great treasures. There are stairways at the north, south, east, and west and you can ascend using any of these, or the elevator if you want to skip the climb. The southern entrance is the most used because it rises out of the city; and the eastern stairway, although damaged by the British long ago, is popular because it leads down to the bazaars, making it a good exit point for prospective shoppers.
Shwedagon is a place of worship, prayer and meditation, and it is important to act with respect and keep noise levels down. Dress conservatively, with long pants and sleeves, and remove your shoes when entering the complex. Be discreet when using your camera. Sunset and sunrise are the most powerful times to visit the stupa.