Royal Museums of Fine Arts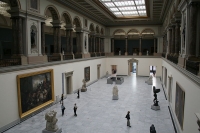 Royal Museums of Fine Arts © Szilas
Unmissable for art lovers, the Royal Museums of Fine Arts are Brussels's premier art museums and comprise the Musée Old Masters Museum, Musée Modern Museum, Musée Wiertz Museum, Musée Meunier Museum, Musée Magritte Museum and the new Musée Fin-de-Siècle Museum. The largest of them is the Old Masters Museum. Opened in 1887, it features the best collection of Flemish art in the world, with highlights including works by Van Dyck and over 20 paintings by Rubens. The Museum of Modern Art was opened in 1984 and includes fine examples from Belgium's best artists over the past century, plus modern legends such as Francis Bacon. The Magritte Museum is devoted to works of famous Belgian Surrealist René Magritte, and houses more than 200 of his works, while the new Musée Fin-de-Siècle Museum is dedicated to the 1900s when Brussels was the capital of Art Nouveau.
Address: Rue de la Régence 3
Website: www.fine-arts-museum.be
Transport: Public bus services 27, 29, 38, 71, 95
Opening times: Weekdays 10am-5pm, Weekends 11am-6pm. Closed on Mondays.
Admission: €15 for all museums.