The Beijing National Stadium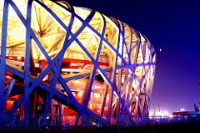 Beijing National Stadium © Dora Hon
The Beijing National Stadium, also known as the Bird's Nest due to its appearance, was the hub of the 2008 Summer Olympic Games, hosting all of the track and field events as well the opening and closing ceremonies. The unique-looking supports make it the largest steel structure in the world, created using a web of steel frames converging in a grid formation. The visual effect is unique and impressive and it was designed to symbolise harmony between technology and nature. The stadium has reopened as a tourist attraction, and the public can tour the facilities, or visit the ski resort now housed inside during the Happy Snow season.
Address: Olympic Green, Beijing
Website: www.n-s.cn
Transport: The entire Olympic park can be accessed via subway line 8.
Opening times: April to October 9am - 7pm; November to March 9am - 5.30pm.
Admission: CNY 50 for general admission; CNY 80 for VIP ticket.