The souks of Marrakech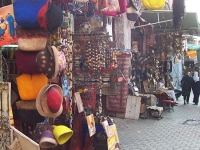 Marrakech Souks © Neil Jones
Marrakech is home to a labyrinth of bustling souks (workshops and markets) offering the city's most fascinating wares. Whether shopping or simply exploring, they are a must for any visitor.
The northern end of the souks, best accessed from the Ben Youssef Mosque, remains refreshingly unspoilt with blacksmiths making wrought-iron goods and alleys filled with the distinct odour of leather workshops. The stalls emerge further south and are met by the Rahba Kedima, a market famous for its bizarre offerings of animals and eccentric potions for spells. The market is colourful and crowded with plenty of fodder for keen photographers.
There are bargains to be found if you haggle hard. As a rule of thumb, your first offer should be around half the price they ask for. A fair price is whatever you're happy paying. The souks are a wonderful experience and many foreigners visit repeatedly during their stay, but it is advisable to stay vigilant and keep an eye out for pickpockets. A firm but polite 'no thank you' is usually enough to ward off pushy stall holders.
Transport: The souks are best explored on foot.