National Museum of Ethiopia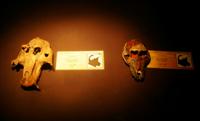 National Museum © Philip Kromer
This museum has a varied range of exhibits displayed across three floors and covering a wide scope of Ethiopian history from the prehistoric to the contemporary. The museum is not world-class in terms of its facilities or exhibition space, but it does contain some genuinely fascinating artefacts and gives visitors a good historical overview of Ethiopia.
The most famous exhibit is the replica statue of Lucy, thought to be the oldest hominid skeleton ever found and estimated to be 3.18 million years old. Lucy was discovered in 1974 and named for the Beatles song. The fragile original skeleton is in the vaults of the building. Also of interest is the selection of celebrated Ethiopian artworks from Axum, Lalibella, and the Tana Monasteries, as well as relics from Haile Selassie's reign. Check ahead of time as to whether there is a power cut scheduled because they are common in the city and it is impossible to appreciate the museum in the dark.
Another great museum in Addis Ababa, ten minute's walk from the National Museum, is the Ethnological Museum inside the main university campus at Sidist Kilo; the two museums are easily combined on a morning of sightseeing.
Address: King George VI St, Piazza.