St George's Cathedral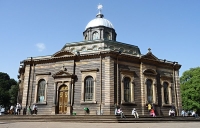 St George's Cathedral, Addis Ababa © OndÅ™ej Žváček
St George's Cathedral was founded by the great Emperor Menelik to commemorate his 1896 victory over the invading Italian army. A relic of St George was carried into battle by the Ethiopians and the emperor built the cathedral to pay tribute to the saint that ensured his victory. The cathedral is a holy place of pilgrimage for Rastafarians. It has a traditional Ethiopian design and octagonal shape and the outer walls of the building are covered in wonderful artwork and mosaics, including work by Afewerk Tekle. Inside beautiful stained glass windows enhance the sacred atmosphere. In 1930 the church hosted the coronation of Emperor Haile Selassie and he and Empress Menen are two of the famous Ethiopians buried here. Attend a service (enquire for times) to experience the wonderful singing and prayerful chanting so typical of Coptic Christianity. If you do attend a service - visitors are welcome - then be aware that the congregation stands for the duration of the service with men to the left and women to the right. Visitors must take off their shoes before entering the church.
There is a small museum at the church which has some useful information and interesting displays. You can also get some great views of the city by climbing the museum's tower.
Address: Fitawrari Gebeyehu St, Piazza.