Griffith Park and Observatory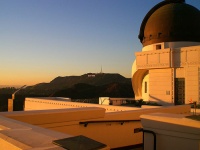 Griffith Park and Observatory © Marcy Reiford
The Griffith Park extends for 4,210 acres (17 km²) of well-kept public grounds and is often referred to as the 'Central Park' of Los Angeles. Rent a bicycle, take a hike or have a picnic under the iconic Hollywood sign. Within the park is the Griffith observatory, which apart from being a familiar filming location, is filled with attractions of its own and a significant site for the study of astronomy. The park has a gift shop and the 'Cafe at the End of the Universe'.
Address: 2800 East Observatory Road, Los Angeles, CA 90027
Website: www.griffithobs.org
Telephone: (213) 473 0800
Opening times: Open Tuesday to Friday 12pm-10pm, Saturday and Sunday 10am-10pm. Closed Monday.
Admission: Free