Tokyo Tower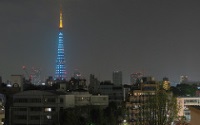 Tokyo Tower © Andreas
The Tokyo Tower is modelled in the vein of the Eiffel Tower in France, only in true Japanese style, it is more colourful and serves a technological purpose. Tokyo Tower functions chiefly as a television and radio antenna but it is also Tokyo's premier landmark and a proud symbol of Japanese culture, celebrating the country's industrial and technological success. At 1,091 feet (332m) it is the tallest structure in Tokyo and a great vantage point from which to take in the city. There are two observation decks in the tower, both with magnificent 360 degree panoramic views. Admiring the city from this high vantage point is only one aspect of the tourist's experience at the tower, however. At the base of the tower, tucked snugly under its 'legs', is the four-storey FootTown. Inside FootTown visitors will find shops, restaurants, a wax museum, the Guinness Book of World Records Museum, an aquarium, and the Mysterious Walking Zone, a fascinating display of holographic technology and imagery. The top floor of FootTown is an interactive art gallery, featuring optical illusions which can be manipulated by visitors. There is lots to see and do and the Tokyo Tower should delight people of all ages.
Address: 4-2-8 Shiba-Koen, Minato-ku
Website: www.tokyotower.co.jp/english/
Telephone: 03 3433 5111
Opening times: Daily 9am-11pm. The Special Observatory is currently closed for renovations.
Admission: Main Observatory: JPY 900 Adults; JPY 500 junior high and primary school students; JPY 400 children.