Tokyo Tower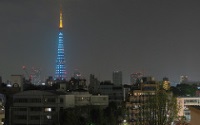 Tokyo Tower © Andreas
Modelled after the Eiffel Tower, the Tokyo Tower is more colourful and serves a technological purpose. Functioning chiefly as a television and radio antenna, it's also one of the city's premier landmarks and a proud symbol of Japanese culture. At 1,091 feet (332m), it's the tallest structure in Tokyo and a great vantage point from which to take in the city. There are two observation decks in the tower, both with magnificent 360 degree panoramic views. At the base of the tower is the four-storey FootTown where visitors will find restaurants, the Guinness Book of World Records Museum, an aquarium, theme park rides and the Gallery DeLux, a display of holographic technology and imagery.
Address: 4-2-8 Shiba-Koen, Minato-ku
Website: www.tokyotower.co.jp/en/
Opening times: Daily 9am—11pm.
Admission: Main Observatory: JPY 1,200 Adults; JPY 1,000 high; JPY 700 primary school students; JPY 500 children.