Chatuchak Market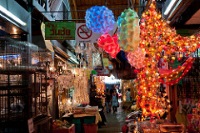 Chatuchak Market © Mark Fischer
The Chatuchak Market (also known as the JJ Market) is said to be the largest flea market in the world. 'Organised' along narrow grid lines under tin roofs, this enormous market is packed tight with all of Thailand's wares. Around 15,000 stalls are loosely categorised into clothing, crafts, food, and animal sections and it is easy to become disoriented quickly. Some of Thailand's illegally traded animals are sold here and vendors are quick to spot signs of oncoming raids. However, a host of legal but bizarre goods are also traded; cock-fighting roosters, monkeys, fake designer gear and antiques are just the tip of the iceberg. The market is only open on the weekends from 8am to 6pm and on Fridays for wholesalers. It is easily reached by the Skytrain from the Mo Chit station and by subway. Visitors should keep the import restrictions of their home countries in mind when shopping at Chatuchak Market, and buy accordingly.
Website: www.chatuchakmarket.org/
Opening times: Weekends 9am-6pm.
Admission: Free