Ratanga Junction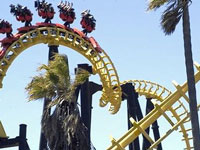 Ratanga Junction © Ratanga Junction
Cape Town's most famous theme park, Ratanga Junction, is a must for all those up for a thrilling day out in the sun. Its rides and activities will keep even the most active of children occupied. The park features gift shops and a food hall for weary riders, or those just looking to rest their legs for a while. There are regular shows at the food court stage to entertain youngsters, including magicians, animal shows, and dancers. The Cobra is by far the most popular ride. The snake-like roller coaster flips occupants round 360 degrees in an array of dips, corkscrews and hard turns. Other favourites include Monkey Falls: a water-log ride that sees passengers drop down big waterfalls, and several smaller roller coasters. There are plenty of mellow rides designed for small children who aren't ready for the adrenalin-pumping stuff, but adults will be thrilled with the quality of rides they can enjoy.
Almost all of the rides are included in the entry cost money, with the exception of things like the Slingshot, which carry individual charges. Parents who are not interested in participating can get a non-rider ticket which costs substantially less.
There are plenty of snack kiosks dotted around the grounds. The queues can get frustratingly long so it is best to go on week days if possible. Visitors should note that Ratanga Junction only opens seasonally. They should check whether the theme park is open on the official website before visiting to avoid disappointment.
Address: Century City on the N1 highway
Website: www.ratanga.co.za
Opening times: Operational dates vary according to season, detailed schedules are available on the website. Ratanga tends to open mainly during South African school holidays.