Canada's Wonderland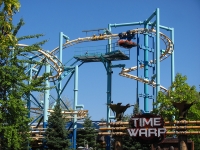 Paramount Canada's Wonderland © Jeremy Thompson
Boasting more than 200 attractions, including Splash Works and a huge variety of roller coasters, Canada's Wonderland is deservedly the country's favourite theme park. Its inviting array of rides includes carousels, train rides and the Time Warp ­â€' Canada's only flying roller coaster. The park also has lots of shopping and dining options. The sheer variety of rides and amusements here ensure that everyone will have a good time regardless of age, making it a must for the entire family.
Address: 9580 Jane Street, Vaughan
Website: www.canadaswonderland.com
Telephone: +1 905 832 8131
Opening times: Opening times vary according to season - check the official website for details.