Adventuredome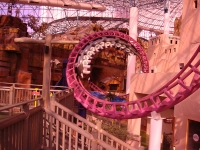 Canyon Blaster, Adventuredome © Nast89
The glass-encased theme park of Adventuredome is the perfect attraction for thrill-seeking kids on holiday in Las Vegas. Its loop roller-coaster and other gut-wrenching rides are not to be missed. If this adrenalin rush is a bit too extreme, there are also shows by magicians and jugglers on offer, as well as plenty of treats like ice-cream, popcorn, and candy. There are also rides and activities designed for younger kids who may not be old enough to ride the main attractions. The fact that the theme park is indoors is an extra bonus, protecting visitors from the sometimes inhospitable Nevada climate.
Address: Circus Circus Hotel, 2880 South Las Vegas Boulevard
Website: www.adventuredome.com
Telephone: (702) 794 3939
Opening times: Generally 10am - 6pm. Opening times vary according to season and day of the week and it is best to check the calendar on the website to avoid disappointment.
Admission: Day pass $39.95 (adult), $19.95 (child). It is possible to pay for rides individually instead of getting a pass.