Chessington World of Adventures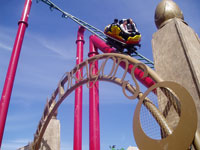 Dragon\'s Fury at Chessington © gnislew
Located in southwest London, Chessington World of Adventures is a theme park and zoo catering to children of all ages. Featuring rides, roller coasters and water slides, this theme park is best visited during the summer months. The zoo, however, is open all year round. An 'African Adventure' themed area is already proving wildly popular among kids, who'll be able to observe magnificent creatures such as lions, zebras and oryxes, as well as enjoy some traditional African mask displays and listen to some African drumming performances. Other highlights are the exciting events and shows; accommodation is also available, in the form of glamping and elaborately themed hotel rooms.
Address: Leatherhead Road
Website: www.chessington.com
Telephone: 0871 663 4477
Opening times: Opening times vary according to the season (check website for details), but are generally from 10am to 5pm most days
Admission: £47 (adults), £43 (children aged 3 - 11). Combination and discount tickets are available as are tickets for single sections of the park. Discounts for booking online.