Ripley's Believe it or Not! Museum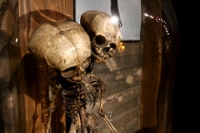 Ripley's Believe It Or Not © Phalinn Ooi
Visitors at the Ripley's Believe It Or Not! Museum can be mystified and thrilled at the rare, the bizarre and the totally unexplained in the many interactive and state-of-the-art exhibitions throughout the museum. The Marvelous Mirror Maze and the Impossible Laser Race are also worth the time. This is a must for families travelling with kids in San Francisco.
Address: 175 Jefferson Street, San Francisco, CA 94133
E-mail: Sanfran@ripleys.com
Website: www.ripleys.com/sanfrancisco
Telephone: (415) 202 9850
Opening times: Sunday to Thursday 10am-9pm; Friday and Saturday 10am-10pm.
Admission: $25 (adults); $19.84 (children).