Children's Fairyland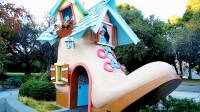 Children's Fairyland © Ted Eytan
This ten-acre entertainment park on the shores of Lake Merritt features carousel rides, puppet shows, friendly animals and displays of story-book sets from well-loved characters like Johnny Appleseed, Peter Rabbit and Alice in Wonderland. Children of all ages will love a trip to Children's Fairyland where they can let their imaginations run wild.
Address: 699 Bellevue Avenue, Oakland
E-mail: fairylandinfo@fairyland.org
Website: www.fairyland.org
Telephone: (510) 452 2259
Opening times: Winter: Friday to Sunday 10am-4pm; Spring and fall: Wednesday to Sunday 10am-4pm; Summer: Monday to Friday 10am-4pm, Saturday and Sunday 10am-5pm.
Admission: $12, babies under 12 months free