Le Jardin d'Acclimatation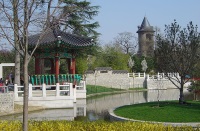 Le Jardin d'Acclimatation © David Monniaux
This children's amusement park attracts thousands of tourists every year. It features a menagerie and the Exploradome Museum, with fantastic optical illusions and amazing structures. The park's attractions include zip-lines, swings, deforming mirrors, paddling pools, radio-controlled boats, a theatre, a small farm, pony and camel rides, an aviary, a butterfly garden and amusement rides. Apart from being loads of fun this wonderland of games and activities is frequently educational. The park offers workshops for children over three that aim not only to amuse but to teach skills and cultivate talents; workshops revolve around things like cooking, gardening, magic and theatre. There are also joint workshops for parents and young children and a few classes for adults only. There are a number of restaurants and cafes on the premises for refuelling. This is a great place for kids to blow off steam at the same time as learning some useful skills, and the activities are wonderful for parent/child bonding too.
Address: Bois de Boulonge
Website: www.jardindacclimatation.fr
Telephone: 01 40 67 90 85
Opening times: Open every day: April to September 10am-7pm; October to March 10am-6pm.
Admission: €3 entrance and extra for some of the attractions. Concessions available.