Parc Asterix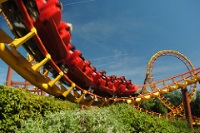 Parc Asterix © Vinicius Pinheiro
Based on the famous comics by Uderzo and Goscinny about cheeky Gauls who annoy the Roman Empire, the Parc Asterix is a theme park located just outside of Paris. Kids will love meeting their favourite characters, including, of course, Asterix himself, and his giant friend Obelix. The park is well known for its large variety of roller-coasters and has begun incorporating rides and themes from historic cultures such as the Romans and the ancient Greeks. There are now six different worlds at the park: Gaul, Egypt, Ancient Greece, the Roman Empire, Vikings, and Travel through Time. Apart from the epic rollercoasters, popular rides include the Menhir Express, a log flume ride, the Goudurix, the Grand Splatch and the Oxygénarium. There are lots of shows at the park and entrance to these performances is included in admission tickets. One of the more popular shows is the dolphin and sea lion show. The Parc Asterix will delight children but it is also wonderful for adults and there are plenty of thrilling rides for adrenalin seekers.
Address: 60128 Plailly
Website: www.parcasterix.fr
Telephone: +33 826 46 66 26
Opening times: Open daily from 10am-7pm during peak season; 10am-6pm during off-peak season. Open until 11pm on selected summer weekends. The opening times vary according to season and it is best to check the website for details before visiting.
Admission: There are ticket options available at varied prices. A freedom ticket will cost: €47 (adults) €39 (children under 12).