France Miniature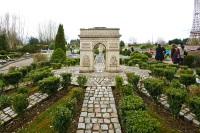 Miniature Arc de Triomphe © Frederic Bisson
Located in Flancourt, France Miniature features more than 130 models of famous French attractions, such as the Eiffel Tower, Lourdes, St Tropez, Le Mont-Saint-Michel and Versailles, for visitors to enjoy. Everything has been created with a 1:30 scale and some for the models are even animated. The detail of the models is remarkable and a joy for those interested in architecture as well as kids. The miniature world includes mechanised trains, cars and boats and there are tiny people visiting the attractions. Children will love spending a day out at this miniature country which feels like a massive doll's house. There are also some fun games and a small amusement park with several rides on offer. There is a restaurant and a souvenir shop on site but a lovely way to enjoy the park, and save money, is to bring along your own picnic.
Address: Boulevard André Malraux
Website: www.franceminiature.fr
Telephone: 01 30 16 16 30
Opening times: 10am to 7pm July and August; 10am to 6pm the rest of the year; closed November to February, and selected weeks in March, April, September and October. Check the website for a comprehensive calendar.
Admission: Tickets range in price between €12 and €22 depending on season, visitor and special deals available.