Notre-Dame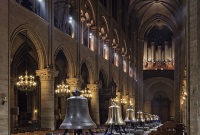 Notre-Dame © Myrabella
Notre-Dame looms large over the Place de Paris, on the Isle de la Cité, and as the most enduring symbol of Paris is an alluring tourist attraction. Built between 1163 and 1345 the cathedral is considered one of the world's Gothic masterpieces. The massive interior can seat 6,000 people and it is dominated by three spectacular and enormous rose windows and a vast 7,800-pipe organ. The 387-step climb to the top of the towers is worth the effort for the panoramic view of the city and the close-up views of the famous gargoyles. The tower also holds the great bell that was rung by Quasimodo, the fictional hunchback in the novel by Victor Hugo.
Opposite the north door is a museum that displays the cathedral's history, while under the square in front of the cathedral is the crypt that houses Notre-Dame's archaeological museum. The church has no real gift shop, but votive candles are available at points in the cathedral in return for a donation.
For a special experience, visit Notre-Dame on a Sunday morning when many of Paris's museums are closed and services are being held, but be respectful of worshippers, especially when taking photos. Another really special time to visit Notre Dame is on summer evenings for the Night Show, an operatic performance projected on a 100-metre tulle screen hanging in the nave. The performances are held nightly in July and August.
Address: 6 Place du Parvis de Notre-Dame
Website: www.cathedraledeparis.com
Telephone: (01) 4234 5610
Transport: Citi metro; RER Châtelet-Les Halles or Saint-Mic stations; or bus 21, 24, 27, 38, 47, 85 or 96.
Opening times: Daily, 8am to 6.45pm (closes 7.15pm on Saturday and Sunday). *The Cathedral was badly damaged in a fire in April 2019 and is currently closed for restoration.
Admission: Free.