Pompidou Centre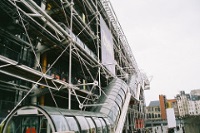 Pompidou Centre © Nina Jean
Built in the 1970s and named after former French president Georges Pompidou, the futuristic Pompidou Centre is now considered part of the Parisian landscape. The outrageous design, complete with its glass elevators, was the inspiration for the Lloyds Building in London and attracts visitors by the million; it is the city's most popular attraction by far. The building houses the Musée National d'Art Modern (MNAM), which displays a vast collection of 20th-century art, from Fauvism and Cubism to Abstract and Absurd, and its numerous cinemas and theatres have regular musical and dance performances. The square to the west of the building attracts a varied assortment of street performers. While there, visitors should be sure to check out the whimsical Stravinsky Fountain with its 16 water-spraying sculptures.
Address: Place Georges Pompidou, entrance by the plaza in Rue Saint-Martin
Website: www.centrepompidou.fr
Telephone: +33 (0)1 44 78 12 33
Transport: Metro Rambuteau, Châtelet, Hôtel de Ville; RER (train) Châtelet or Les Halles; bus 21, 29, 38, 47, 58, 69, 70, 72, 74, 75, 76, 81, 85, 96
Opening times: Daily (except Tuesdays), 11am to 10pm. Closed 1 May.
Admission: Entry to the centre and museum ranges between €14 and €18 for adults, depending on the season. The centre has numerous attractions, exhibitions and shows and prices vary. Check the website for details.