Musée d'Orsay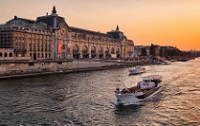 Musee d'Orsay © Joe deSousa
This great museum is fairly new by Paris standards. It is situated in a railway station by the Seine and houses a vast collection of works from the significant 1848 to 1914 period. There are important works from the Art-Nouveau movement but the Orsay is best known for its Impressionist and Post-Impressionist art. The collection is arranged chronologically and contains highly regarded works by Monet, Manet and Courbet. Also on permanent display is the famous painting by Gustave Doré entitled L'énigme, and Henri Chapu's marble statue of Joan of Arc in Domrémy. The Musee d'Orsay is one of the most famous art museums in the world and one of France's premier attractions. Even the uninitiated will appreciate this world-class museum, and art fanatics will be in heaven. There is a restaurant and a book shop at the museum.
Address: Entrances on Rue de la Légion d'Honneur and Rue de Bellechasse
Website: www.musee-orsay.fr
Telephone: +33 (0)1 40 49 48 14
Transport: RER Musée d'Orsay; Metro Solférino; bus 24, 63, 68, 69, 73, 83, 84 or 94
Opening times: Tuesday to Sunday 9:30am to 6pm, Thursday 9.30am to 9.45pm, closed Mondays and on 1 January, 1 May and 25 December.
Admission: Permanent collections: €12 (adults), €9 (reduced). Free for under 18s and EU members under 25. Concessions available.