Fontainebleau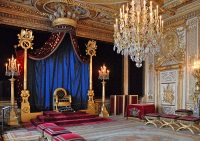 Fontainebleau interior © Jean-Pierre Dalbera
In the 16th century, Henry II and Catherine de Medici commissioned architects Philibert Delorme and Jean Bullant to build a new palace within the Fontainebleau forest, 40 miles (64km) south of Paris. Italian Mannerist artists Rosso Fiorentino and Primaticcio came to assist in the interior decoration, helping to found the School of Fontainebleau. Visitors will see the long Gallery of François I, which the artists adorned with scenes like The Rape of Europa and the monarch holding a pomegranate, a symbol of unity, as well as the richly adorned Louis XV Staircase and the monumental fireplace and frescoes in the ballroom. The palace was a refuge for French monarchs from the days of the Renaissance. They valued it because of its distance from the slums of Paris and for the rich hunting grounds that surrounded it. Many important events have occurred here, perhaps none more memorable than when Napoleon stood on the grand steps in front of the palace and bade farewell to his shattered army before departing for Elba. The chateau boasts four museums, beautiful and vast grounds and many treasures. Compared to the glories of Versailles, however, Fontainebleau can be a bit of an anti-climax; it is best to see it before Versailles.
Address: 4 Rue Royale
Website: www.musee-chateau-fontainebleau.fr
Telephone: 01 60 71 50 70
Opening times: Closed Tuesdays. October to March: 9:30am to 5pm. April to September: 9:30am to 6pm.
Admission: There are a variety of ticket options but the full ticket costs €11 (adults), €9 (reduced), free for under 18s, and under 25s if EU members.