Mount Rushmore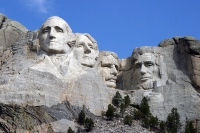 Mount Rushmore © Dean Franklin
Mount Rushmore National Memorial is literally South Dakota's biggest attraction. It covers 1,278 acres (5 square km) and draws over two million annual visitors. It depicts 60-foot (18m) carvings of US Presidents Washington, Jefferson, Roosevelt, and Lincoln, representing the first 150 years of American history.
Together with 400 workers, Gutzon Borglum sculpted Mount Rushmore between 1927 and 1941. Costing under one million dollars, it's somewhat remarkable that nobody died from the dangerous nature of the work during its creation.
Interestingly, the artist originally intended the faces to have bodies. The sculpture is controversial among Native Americans, as a previous treaty had granted the land and mountain, known as Six Grandfathers, to the Lakota tribe.
Visitors to the site stroll through the Avenue of Flags that depicts all 50 states, walk the Presidential Trail to the best viewing areas, and watch the evening lighting ceremony held nightly from late May to September. The site has a visitors' centre, gift shop, and cafe.
Website: www.mountrushmoreinfo.com