Union Square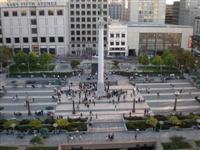 Union Square © BrokenSphere
This central plaza is the modern face of San Francisco, surrounded by Macy's, Saks, Bloomingdale's, and the Levis flagship store, plus iconic hotels and quaint historical buildings. Along the west side, up the steep incline of Powell street, the famous cable cars run down to Fisherman's Wharf, while on the other side, Grant avenue leads directly into the heart of Chinatown. The Square is a natural meeting place and a popular departure point for walking and bus tours. You can also find the discount ticket booth here, and enjoy the café pavilion with outdoor seating. Note the gorgeous statue of Victory atop the central plinth. Each holiday season a giant Christmas tree is erected in Union Square, giving the area a festive atmosphere.
E-mail: info@unionsquarebid.com
Website: www.visitunionsquaresf.com
Telephone: (415) 781 7880
Transport: Muni buses, Muni metro, cable cars and BART (Bay Area Rapid Transit) all run to Union Square.