Asian Art Museum of San Francisco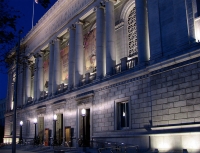 Asian Art Museum © J. Ash Bowie
San Francisco has close ties with Asia, a legacy reflected in its sizeable Chinese and Japanese communities. The Asian Art Museum collection was funded and developed to honour this heritage. Housed in the magnificent former San Francisco city library building, this is the largest museum in the western world dedicated to Asian art, with over 17,000 Asian art treasures drawn from 6,000 years of history. The museum is well known for its exceptional special exhibitions, with visiting collections representing art from all over Asia.
Address: 200 Larkin Street
Website: www.asianart.org
Telephone: (415) 581 3500
Opening times: Tuesday to Sunday 10am-5pm, closes 9pm Thursdays. Closed Mondays.
Admission: Adults: $15, children under 12 are free. Concessions available.