Muir Woods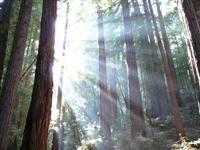 Muir Woods National Park © Richs5812
The closest remaining stand of Redwoods to San Francisco, Muir Woods National Monument is a great half-day excursion from the city to pay homage to these soaring giants of the forest. It's incredible to think that each tree grew from a seed no larger than that of a tomato's. Redwoods can grow to over 380 feet (115m), although Muir Woods' tallest tree is 258 feet (79m). The park itself is a haven for wildlife and there are numerous longer hikes departing from the shorter ring path that most visitors amble around.
Address: Muir Woods National Monument, Mill Valley, CA 94941-2696
E-mail: bridget_peregrino@nps.gov
Website: www.nps.gov/muwo/index.htm
Telephone: (415) 561 2850
Opening times: Open every day 8am to sunset.
Admission: $10 adults, children under 15 free.