Spoleto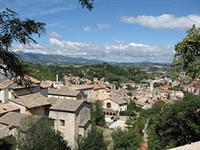 Spoleto © ho visto nina volare
The beautiful town of Spoleto was established by the Romans in the 3rd Century BC, and many Roman buildings, ruins and artefacts remain, including the Coliseum and the Church of San Salvatore, which dates from the 4th Century, making it one of the oldest churches in the world.
The Lombards made Spoleto their capital in the 8th Century, and from here ruled most of central Italy until the town fell into papal hands in the 12th Century. The medieval castle and the cathedral dominate the well-preserved Upper Town; the Lower Town was badly damaged in World War II and has had to be extensively rebuilt. The Duomo di Spoleto has a lovely facade with eight rose windows, while inside there are beautiful frescos by Filippo Lippi. Another popular attraction in Spoleto is the impressive Tower's Bridge, or Ponte delle Torri, which was built in 1350 AD and is still traversable today. The bridge provides access to some great walking trails and the views are gorgeous.
The church of San Pietro can be found in the wooded hills a short trip out of town. This church served as the cathedral of Spoleto until 1067, and sports some of the best Romanesque carvings in Italy.