Èze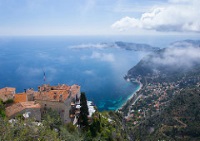 Eze © Roman Prykhodchenko
Perched on a mountain 1,400 feet (427m) above sea level, the medieval town of Èze is a popular stop on the route between the French Riviera and Monaco. The winding cobblestone streets lead visitors to the ruins of a 12th-century castle, and also to many shops; shopping is one of the most popular reasons for visiting Èze. The streets are dotted with tiny boutiques and shops selling a variety of French souvenirs.
There are stunning views of the Mediterranean from this charming hilltop village but because it is so steep and medieval, with its little houses crammed together on winding, cobbled streets, the views from inside are often limited. To fully appreciate the location of the place one must climb into the botanical gardens, Le Jardin d'Eze, which perch on top of the hill. There are magnificent 360 degree views from the top and some interesting ruins too. It is quite a climb though, so dress accordingly. Another popular attraction in the village is the Fragonard - L'Usine Laboratoire, a factory where they make beautiful perfumes and fragrances, where visitors can be guided through the process as well as buy some lovely scents at reduced prices.
Eze feels like a place stuck in a quaint and artistic past and it is a delight to explore; it is less fashionable and celebrity-packed than many places in Cote d'Azure and this is part of its appeal.