Aquaboulevard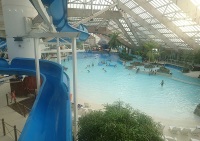 Aquaboulevard © Mariiwakura
The largest water park in Europe, located in the heart of the city of Paris, Aquaboulevard is a great treat for kids (and adults!). One of the big advantages of this attraction is the fact that most of it is indoors, making it fun on sunny or rainy days in Paris; if you are travelling with kids it's a good activity to keep up your sleeve for a rainy day. The park itself includes various waterslides, a spa area with hot baths and Jacuzzis, indoor and outdoor wave pools, a beach area for relaxing, and a wave machine which allows you to try surfing or wakeboarding on a standing wave, among other things. The attractions are not limited to water either: the complex also offers cinemas, a mini-golf course, tennis courts, a fitness centre, play areas, and other indoor attractions. Children under three are not allowed into Aquaboulevard and proof of age should be taken for young kids.
Address: 4 to 6 Rue Louis Armand
Website: www.aquaboulevard.fr
Telephone: 1 40 60 10 00
Opening times: Opening times may vary according to season. Monday to Friday 9am to midnight; Saturday 8am to midnight; Sunday 8am to 11pm.
Admission: Tickets range in price according to the season and day of the week. Adults can expect to pay around €33 and for children under 12; €19.