Devon House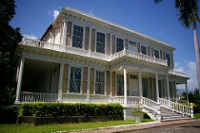 Devon House © Christina Xu
Devon House in Kingston is a prime example of Jamaican Georgian architecture. The house was built by Jamaica's first black millionaire, George Stiebel, at the end of the 19th Century. It's furnished with a number of antiques and evokes the feel of a 'Jamaican Great House'.
Devon House is a national monument, but also a heritage centre aiming to promote local arts and crafts and keep Jamaican traditions alive. The ice-cream sold here is famous and the dozens of flavours on offer frequently pop up in tourist reviews. There are also baked goods, liqueurs and wines, coffee, cigars, spices, arts and crafts, clothes and much more on sale. The Norma's on the Terrace restaurant comes very highly recommended for sampling Jamaican cuisine.
Devon House also prides itself on maintaining a peaceful and lovely green area in the centre of the city and the gardens are open to the public free of charge.
Address: Corner of Trafalgar Rd and Hope Rd
Website: www.devonhousejamaica.com