Gamla Uppsala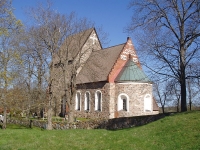 Gamla Uppsala, Sweden © Lestat
Three miles (5km) north of Uppsala, Gamla Uppsala was once an important town, the seat of Swedish royalty and the site of many historic funerals. It was an important religious and cultural centre as early as the 3rd century AD, and ancient sources identify the site as the power centre of the legendary Yngling dynasty of Swedish royalty. The Uppsala temple oversaw rites and sacrifices to the Norse gods in the pre-Christian era, and it was said that Odin himself resided there.
However, as Christianity overtook Europe, the ancient temple was burned and the stone church of Gamla Uppsala was built in the 12th century. The church still stands today, along with a grave field of about 250 burial mounds. Once, between 2,000 and 3,000 ancient burial mounds could be found at Gamla Uppsala but farmlands have encroached on the archaeological treasures. Gamla Uppsala also has a small museum detailing the rich history of the town, and a few historic old buildings.
Today, Gamla Uppsala has a population of under 20,000 and it is a picturesque little town, well worth a visit for its historical atmosphere and beautiful surroundings. Visitors can spend the day on a guided tour (available during the summer months). The main attractions include Gamla Uppsala Museum, Gamla Uppsala Church and the open-air museum behind it, and Odinsborg restauarant. The town is accessible from Uppsala by a quick bus trip.
E-mail: gamlauppsala@raa.se
Website: http://www.destinationuppsala.se/en/To-do/ToDo/?tlang=en&tid=717818
Telephone: +46 18 23 93 00
Transport: Visitors can reach Gamla Uppsala by taking the 110 bus from Uppsala C.