Westminster Abbey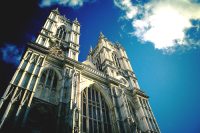 Westminster Abbey © Mark Ramsay
This church in the heart of the city is one of London's top tourist attractions, a UNESCO World Heritage Site, and rivals Notre Dame for the accolade of most famous church in the world. Westminster Abbey draws millions of tourists each year, in addition to the locals who worship there every week. The abbey is the site of royal coronations and weddings (including Prince William's wedding to Kate Middleton in April 2011). Visitors can marvel at the Gothic architecture, enormous stained-glass windows and paintings that go back 1,000 years, and guided tours are available in several languages. A fantastic sight, Westminster Abbey is a must for visitors looking to experience the heart and soul of England's rich cultural history. Anybody is free to attend the regular religious services held in Westminster Abbey and tourists are also welcome between certain hours.
Address: 20 Deans Yard, London
Website: www.westminster-abbey.org
Telephone: +44 20 7222 5152
Transport: Westminster Abbey is in walking distance of both St James's Park and Westminster underground stations
Opening times: Opening times vary and the church may be closed for special services on any day. Generally: Monday, Tuesday, Thursday and Friday from 9.30am to 3.30pm; on Wednesday from 9.30am to 7pm; and on Saturday from 9.30am to 2.30pm. Note that Westminster Abbey is not open to tourists on Sundays.
Admission: £22 (adults), £9 (children 11-18), Free for children under 11 years of age when accompanied by an adult. Other concessions available, please check the website for details