Stirling Castle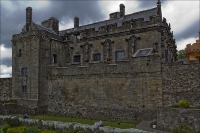 Stirling Castle © dun_deagh
One of the most impressive castles in Scotland, Stirling Castle has a famous history of clashes between British troops and Scottish revolutionaries. Its bridge is the site of one of William Wallace's major victories, and the field of Bannockburn was the venue for the triumph of Robert the Bruce. Stirling Castle was also home to generations of Scottish monarchs, including Mary Queen of Scots. The views of the surrounding countryside, including the famous Wallace Monument, are spectacular.
Free guided tours run throughout the day and there is an excellent audio guide available in English, French, German, Italian, Spanish and Japanese for a small extra cost. The fascinating history of the castle makes it worthwhile to hire an audio guide, or at least do some research beforehand, as past events bring the sprawling castle and surrounding area magnificently to life. Even without the audio guide, there are exhibitions and displays offering some information about the castle and the important battles fought there. Although some of the castle is in ruin, other areas have been carefully restored to give visitors a sense of how it must have looked during its glory days.
Address: Castle Wynd, Stirling
E-mail: stirlingcastle@hes.scot
Website: www.stirlingcastle.gov.uk
Telephone: +44 1786 450 000
Opening times: Open daily, from 9.30am to 6pm (1 April to 30 September); and from 9.30am to 5pm (1 October to 31 March). Last admission is always 45 minutes before the closing time
Admission: £15 (adults), £9 (children 5-15). Concessions available.