Fenway Park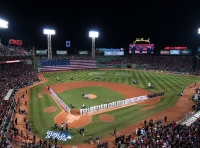 Fenway Park © Rick Berry
The Boston Red Sox are a much-beloved part of life in New England. The 'Curse of the Bambino' and their infamous near 100-year losing streak only made their supporters more fanatical. Fenway Park is the oldest Major League Baseball stadium still in use, and has quirky features like The Triangle, Pesky's Pole, and the famous Green Monster left-field wall. Visitors will notice a lone red seat in the right field bleachers, which is where Ted Williams hit the longest home run at Fenway, measuring 502 feet (153m). A baseball game at Fenway Park is a must for any summertime trip to Boston. Hot dog, crackerjacks, and all.
Address: 4 Yawkey Way
Website: boston.redsox.mlb.com
Admission: Admission varies according to section.