Chilean Tierra del Fuego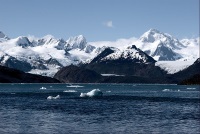 Chilean Tierra del Fuego © Luis Alejandro Bernal Romero
In the furthest southern reaches of Patagonia, at the tip of South America, lies the archipelago of Tierra del Fuego, which translates to 'Land of Fire'. It is a dramatic name for a dramatic place, as the harsh winds of the subpolar climate sweep over rocky mountains, sparse tundra and hardy forests.
Tierra del Fuego is an increasingly popular eco-travel destination, and adventurous travellers come to see wildlife that includes sea lions, foxes, condors, owls and firecrown hummingbirds. Hiking and camping are popular activities, and the archipelago offers some of the best trout fishing in South America.
While the savage natural beauty of the area is the main attraction for travellers, there is also more traditional touristic sightseeing on offer. Much of the tourism in Tierra del Fuego revolves around 'southernmost' things: the port town of Puerto Williams claims to be the southernmost city in the world; the southernmost cathedral and temple are located in Punta Arenas; and, while Cape Horn is widely thought to be the southernmost island in South America, that title actually goes to The Diego Ramírez Islands, which are nesting grounds for many species of southern seabirds, including albatross, penguins and petrels. Travellers with a sense of adventure looking to get off the beaten track will find Tierra del Fuego to be quite a revelation.