Strasbourg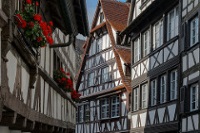 Strasbourg © Alessandro Caproni
Less than one hours' drive from Mulhouse and three from Paris, Strasbourg is a popular tourist destination in Alsace-Lorraine. The capital and largest city in Alsace, Strasbourg has a beautiful city centre that has been declared a UNESCO World Heritage Site, with many churches, museums, and photogenic half-timber houses lining the narrow cobbled streets. One of the most famous sites in Strasbourg is the great sandstone Gothic cathedral with its astronomical clock. There are a few other beautiful churches as well, with architecture ranging from Romanesque to Gothic to Renaissance.
Strasbourg is also a modern city, however, with a lively atmosphere that belies its historic facade. Good restaurants abound, serving a blend of French, German, and local Alsatian cuisine. Late summer (July and August) is the best time to visit Strasbourg, as the warm weather paves the way for many theatre and music events. Christmas is also a festive time of year, with holiday markets in place Broglie and place de la Cathédrale.
From its position on the Rhine River, Strasbourg also makes a great base from which to explore southern Germany (just across the river) and Switzerland (only an hour's drive south).