Kilkee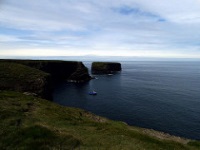 Kilkee © Carolyn
Kilkee has its roots as an exclusive Victorian seaside resort for wealthy merchant families. It's known for the beautiful sandy beach that now draws families from all over the UK. In its heyday, Kilkee attracted some famous people. Charlotte Bronte spent her honeymoon in the little village, and Lord Tennyson also came holidaying.
The beach is great for swimming and is protected by a reef, which tends to ensure calm waters in the bay. In fact, it is said to be one of the safest beaches in Ireland. It's a popular diving spot, and offers several picturesque swimming areas, including a formation of natural rock pools called the Pollock Holes. It's also a well-loved sailing and boating destination. If the weather isn't kind, visitors can still have some fun at Kilkee Waterworld.
Kilkee has land-based attractions and activities as well, including a golf course and a number of restaurants and bars in town. Kilkee gets busy in late June each year, when it hosts the Hell of the West Triathlon. In fact, the seaside village is busy for most of the summer season.
Website: www.kilkee.ie
Transport: There is a regular bus service to Kilkee from Kilrush, Ennis and Limerick.