Ho Phra Kaew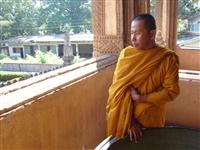 Monk at Ho Phra Kaew © Tevaprapas
Ho Phra Kaew is one of Vientiane's oldest and most grandiose temples. Its extremely interesting history sheds light on Laos' past relations with Thailand. More specifically, King Setthathirath built the temple in 1565 for the express purpose of housing the Emerald Buddha, which he had pilfered from Chiang Mai City in Northern Thailand. Made of gold and green jadeite, the statue was recaptured by the Siamese army in 1778 and returned to Bangkok - where it has remained. Yet even without the Emerald Buddha, Ho Phra Kaew should easily make the bucket list of anyone interested in the region. Indeed, this national monument exposes visitors to Laos' varied cultural heritage. The museum's displays include a heavily lacquered 16th-century door carved with Hindu images, and a collection of stone-cut figures representing Khmer deities. Photographs are permitted and there is a small entry fee.
Address: Rue Setthathirath, Vientiane
Opening times: Daily: 8am to 12pm; 1pm to 4pm.