Vasa Museum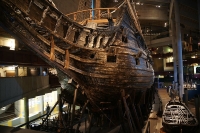 Royal Warship Vasa © JavierKohen
One of the most popular attractions in Sweden, the 17th-century warship Vasa sank on its maiden voyage in 1628 and was salvaged in 1961, with thousands of artefacts, including coins, tools, clothing, and other historical items. The ship has been carefully restored, including the upper gun deck, the admiral's cabin, and the steering compartment. Exhibitions detail the hardships of life at sea, and showcase the primitive supplies and medical equipment sailors had to contend with. There is even a museum garden where the vegetables, herbs, and flowers once used by the crew for food and medicine are grown in season. Guided tours are included in the entrance fee. They are conducted in English and Swedish several times a day and take about 25 minutes, but the schedule varies according to season and day so travellers should check the website before visiting. Groups of more than nine people will need to book guided tours in advance for a fee. There is a restaurant and a shop at the museum for refreshments and souvenirs. The Vasa Museum is consistently one of the top rated tourist attractions in Stockholm and is an intriguing place to visit for people of all ages.
Address: Galärvarvsvägen 14, Stockholm, Sweden.
E-mail: guidedisken.vasa@maritima.se
Website: www.vasamuseet.se
Telephone: +46 8 519 548 00
Opening times: Open daily 10am to 5pm, and Wednesdays 10am to 8pm (September to May); open daily 8:30am to 6pm (June to August).
Admission: SEK 150 for adults and free for children under 18.