Hearst Castle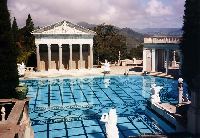 Hearst Castle © Stan Shebs
One of the most opulent mansions in the US, Hearst Castle was the residence of newspaper tycoon William Randolph Hearst. Built between 1919 and 1947, the residence was originally envisioned as a modest bungalow, but ballooned to a massive Spanish Revival castle.
Located near San Luis Obispo, Hearst Castle is a popular tourist attraction along the Pacific Coast Highway in California. The magnificent residence has 165 rooms, including 56 bedrooms, 61 bathrooms and 19 sitting rooms, all richly decorated with ceilings Byzantine tapestries, Spanish and Italian art, fireplaces from Gothic castles and Egyptian statues.
Other amenities at Hearst Castle include indoor and outdoor swimming pools, tennis courts, a movie theatre, airfield, and even a private zoo (zebras and a few other exotic animals still roam the grounds). The Neptune Pool especially is a highlight of the estate, offering panoramic vistas of the surrounding mountains and Pacific Ocean. The grounds, spreading across 250,000 acres (1,012 sq km), are bursting with colour as manicured gardens bloom with tulips, bougainvillea, lilies, gladiolus and agapanthus.
Tours of Hearst Castle include a film of the estate's construction, and visitors can choose between several tours, including the Grand Rooms Museum, Upstairs Suites Museum, Cottages and Kitchen and Evening Museum Tour. Advance bookings are recommended, and can be made up to eight weeks ahead of time.
Website: www.hearstcastle.org