Arkhangelskoye Palace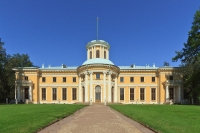 Arkhangelskoye Palace, near Moscow © A.Savin
The Arkhangelskoye Estate, just outside Moscow, is an old aristocratic estate home that has been a museum since the fall of the Russian tsars in 1917. It was built in 1703, featuring classical and neo-classical design elements. The estate is composed of various buildings including the main palace, a smaller palace called Caprice, a church, and a theatre. Beautifully decorated interiors can be found throughout, augmented by a very impressive collection of art. Unlike many other old aristocratic Russian estates, Arkhangelskoye is in very good condition as special, dedicated efforts have been made in recent years to ensure its upkeep. The estate is easily reached by train, a 30-minute journey from the Yaroslavsky train station in the west of Moscow. In the summer and early autumn, all of the buildings are open for viewing. Visitors are welcome to explore the grounds and can bring picnics to enjoy in the gardens. There are also usually several music concerts hosted by the estate throughout the summer months.
While still beautiful and worth a visit during the winter, the gardens are obviously not much of a sight, and some of the buildings are occasionally closed in the winter.
Address: Arkhangelskoye, Moscow Oblast, Russia, 143420.
Website: www.arhangelskoe.su/
Telephone: +7 498 568-95-80
Transport: The estate is accessible by both bus and train out of Moscow.
Opening times: Weekdays: 10am to 5pm. Weekends: 10am to 6pm.
Admission: Admission costs vary widely based on areas viewed. Pricing can be found on the official website.